Experiential Learning is your chance to learn through reflection on doing and is a critical part of you being able to integrate the course work you've been exposed to with real world experience that will be a platform for your next steps.  See the CBS webpage for details on how to get involved!!
The Kaplan Lab has a long history of supporting undergraduates doing inquiry-based research. As a research mentor, I am committed to provide students with a foundation in how experimental research is carried out, an exploration of the genesis of biological questions, and the tools necessary to develop hypotheses that are testable in the lab.
Mentor-Mentee "bill of rights": In the linked document, you will find a clearly stated definition of a mentor and mentee as well as the accepted responsibilities of each in this critical relationship. All students and mentors should review the bill of rights and consider adopting these for your own working relationships.
For students interested in pursuing research in my lab, you should review and be agreeable to the key principles in establishing a good mentor-mentee relationship.
As your mentor, I am committed to: 
(i) Provide advice and support for your research project.
(ii) Act as a coach to help you attain your professional goals
(ii) Advocate for your success by supporting your academic growth and your entree into graduate programs or professional positions.
(iv) To aid in achieving the above, I am committed to being honest and fair and providing you with clear objectives and expectations for your success.
As a mentee, you will be committed to:
(i) Communicating your goals and being honest in your commitment to your research project.
(ii) Maintain your academic success in courses by evaluating your research/study balance.
(iii) Exhibiting passion to the pursuit of knowledge through experimental science.
(iv) Be committed to the standard practices of honesty and integrity in research science.
(v) And, to have fun!
Research and Study Plan: Over the years, I have continued to evolve the mechanisms to involve undergraduate students in the research in my lab. Changes to our working environment due to COVID19 as well as issues of scale and resources have forced some of these changes. Here is the latest "path" that I encourage students to pursue. Not every student is the same, so some paths will vary. I'm always happy to chat about what makes the most sense for you.
(i) Starting in the Fall of 2020, I am offering a one unit seminar course, "Focus on Research. The idea is to help a larger number of students identify and connect their interest in biology to data and developing research questions. This is the prelude to searching for a lab (mine or other labs) to do research in or just be well versed in the process of identifying key research questions.
(ii) If we agree to work together on a research thesis project, the next step is to take a 1-2 unit independent study course, an introduction to research, with Dr. Kaplan (or with a graduate student or post-doctoral fellow in the lab). The details of this course can be found here. After satisfactorily completing this course, you will have identified a research question or hypothesis, which will form the basis of your laboratory work.
(ii) You will commit to an average of ~9h/week of lab work (organized into blocs of three hours or more).
(iii) You will commit to at least one year of laboratory work, but preferably longer.
(iv) You will keep an organized e-notebook and regularly give oral presentations in lab meetings in order to practice explaining the project background that led to your hypothesis, your experimental approach, results and next steps.
(v) You will present an oral presentation (or perhaps poster) at the URC in the spring and apply for relevant fellowships (e.g., PUF).
(vi) At the end of your time in the lab, you will write a thesis explaining your project and results. Ideally, this work will be published in an on campus publication.
Research Opportunities:
(i) Projects related to the major research questions in the lab.
(ii) Research projects using published data on topics related to drug efficacy or science in the media as examples.
(iii) Design of teaching modules that emphasize experiential learning in lecture and lab courses.
Real life experiences of undergraduate thesis projects: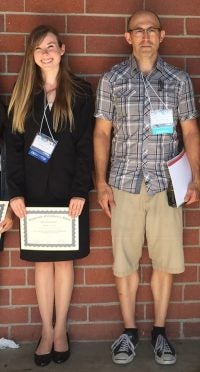 Nichole Lewis: Nichole's story nicely relates how an UG research effort can propel a student into the world of research and beyond. Nichole joined my lab as a Cell Bio major and took on two separate but related projects. In the first project, Nichole helped isolate and characterize genetic suppressors that allowed a spindle mutant (bim1del) to grow robustly on hydroxyurea (HU, a version of a common chemotherapeutic that blocks DNA replication). She learned how to analyze DNA content by flow cytometry and much to our surprise, showed that these suppressors could still arrest in the presence of the drug, HU. This pointed to another mechanism of suppression that we believe is aligned with the ability of these cells to bypass the genomic instability associated with a loss of Bim1 function and replication stress. Based on her work, we began a high through put screen for specific genes that when mutated bypassed bim1del sensitivity to HU or enhanced it. The results from this screen have driven our ideas about how anaphase surveillance pathways might ensure the integrity of sister chromatid resolution.
In her second project, Nichole took on biochemical analysis of the microtubule regulatory protein, Bim1. Using sedimentation gradients, Nichole showed that Bim1 normally is found in a mixture of small (dimer) and larger protein complexes. Replication stress, which we had found drives Bim1 to associate with the mitotic spindle, enriched for the smaller dimer population of Bim1. This finding led us to consider a more complex model for spindle protein regulation, one that involves the regulated interaction between Bim1 and other cellular complexes. Again, Nichole had made a major contribution to how we thought about the problems we had been studying.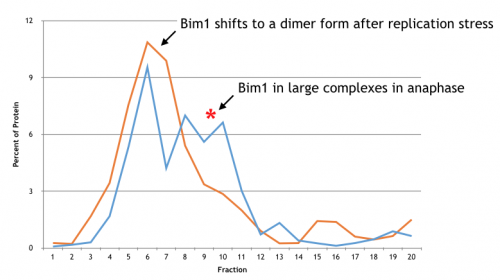 Nichole's love for cell biology and her success in the lab made her an excellent candidate for graduate school. She entered the BMCDB program and is now working on stem cell regulation in the Knoepfler Lab in Sacramento.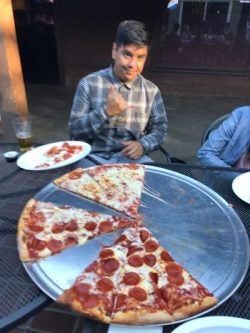 Luis Perhucho-Jaimes: Luis was a pharmchem major, but he wanted to gain experience in understanding how cells worked. This kind of interdisciplinary learning is one of the transformational experiences available at UC Davis when students are brave enough to explore. Luis jumped into the project that was initiated by Jonathan Mendes, and begin to use genetics to characterize the role of septins in autophagy. He quickly found that septin mutants had reduced viability after nutrient deprivation, similar to mutations in known autophagy genes. This led us to conclude that septins play a positive role in regulating autophagy. However, a similar conclusions was reached by another group in a publication in the Journal of Cell Science. Being "scooped" is never any fun in science, but it led Luis to reexamine some of his conclusions in light of the published data. He realized that the autophagy mutants not only reduced cell viability but caused cell death, a phenotype that neither he nor the published article addressed. He quickly showed that septin mutants do NOT cause cell death under starvation conditions, a result the radically altered how we think about septins and contradicts the findings from the published work. Luis found other discrepancies, including how septins behaved after nutrient deprivation (see below).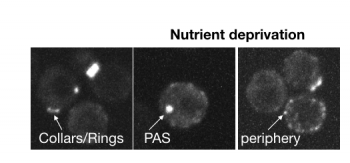 Luis has continued his work on septins and autophagy as a jr specialist in my lab, where he has made many important advances. His work is nearly ready for publication and our conclusions are quite distinct from the current view in the field. This is a great example of how being thorough in experimental biology can drastically alter how to interpret data. Scientific advances are made through hard work, careful analysis and patience – just ask Luis!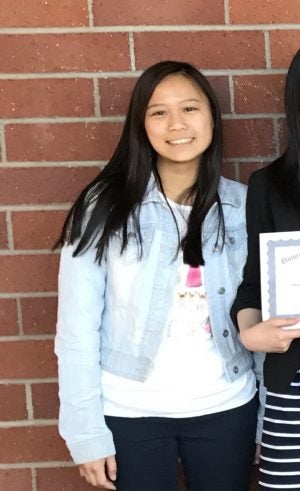 Aileen Chhen: Aileen was an NPB major who was interested in a career as a pharmacist. How did her interest fit with a cell biology professor? Actually, it worked out remarkably well. Aileen chose to focus on a literature based research project related to our work on Hsp90 in the lab. I had always been curious about why clinical trials with Hsp90 inhibitors had failed to show an clinical significance. A former undergraduate had catalogued the many clinical studies, and Aileen decided to test the idea that the poor significant in clinical trials might correlate with a failure to match the trial conditions to pre-clinical findings. Aileen had to do a lot of reading, but she developed a clever rubric for comparing the significant clinical results and matching them to clinical studies, both with respect to the types of cancers and the measures of effectiveness on the patient's cancer.  Her work suggests that there is remarkably little connection between what worked well in the lab using Hsp90 inhibitors and the design of the clinical trials. Though this doesn't prove that this is cause for the lack of progress in the clinic, it does hint at the gulf between pre-clinical findings and what is or can be tested in the clinic.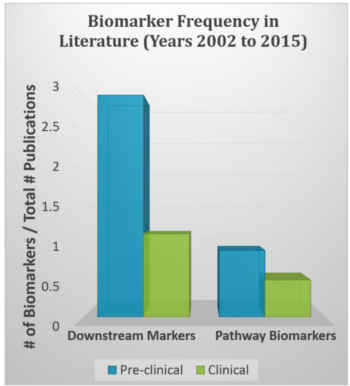 Aileen made a beautiful poster and presentation outlining her findings and conclusions and presented it at the URC. She also earned Undergraduate Research Honors for her thesis. She has since applied to pharmacy schools, and will no doubt make a fantastic pharmacist.